New BANES campaign launched to stop motorists idling outside school gates
Back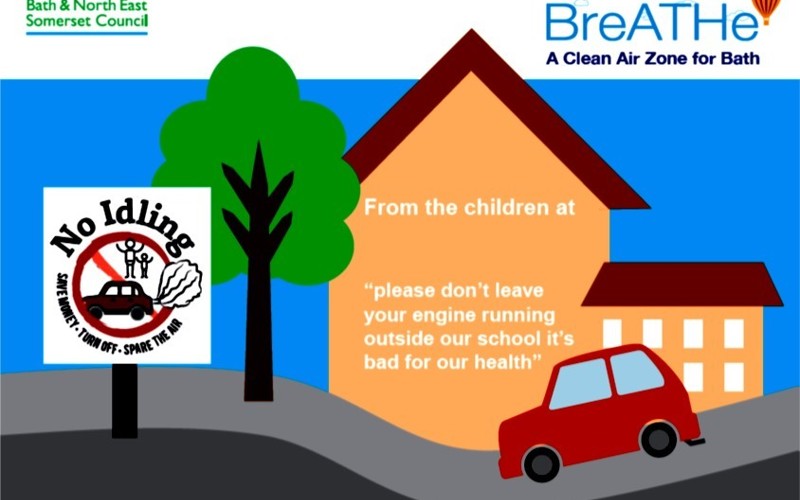 7 November 2019
A new campaign is being launched by Bath & North East Somerset Council to encourage parents and carers who use their cars to do the school run to switch off their engines and stop idling by the school gates.
Idling is when a vehicle's engine is left running for more than 30 seconds when a car is not moving. Research shows that idling engines produce up to twice the amount of exhaust emissions compared to when a vehicle is moving. This means in areas where there are high numbers of idling vehicle engines, such as outside schools, levels of carbon monoxide, nitrogen dioxide NO2 and particulates build up.
These substances are linked to several health issues including lung and heart diseases and young children are particularly vulnerable to their effects.
12,000 people in Bath and North East Somerset suffer from asthma, and exposure to high levels of NO2 can trigger attacks
Latest research indicates that in the UK between one in four and one in twelve new cases of asthma in children is attributable to NO2
High levels of NO2 contribute to reduced lung development in children
Idling also contributes to air pollution and unnecessary noise, increases carbon footprint and waste fuel and money.
We whole heartedly support this campaign at Widcombe and really believe small changes in our collective behaviour can make a big difference in our community. So please, if you drop off or collect your children from school in a car, add your support by switching off your car engines off whilst waiting outside school.
Please also look out for our School Council children who will be distributing postcards in the streets outside the school to spread this important message.