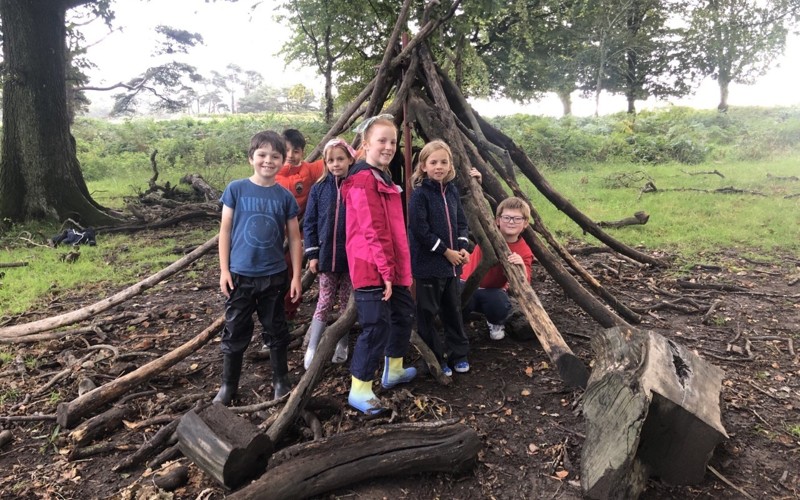 4 October 2019
Year 5 had a wonderful time on camp last week. They stayed at Margam Discovery Centre, a residential centre set in 850 acres of parkland close to Port Talbot. Despite the weather our campers made the most of their stay and enjoyed an environmental art workshop, a night walk, team building and trek though the beautiful Welsh hills. Hattie wrote us a wonderful diary, which sums up their stay perfectly!
Dear Diary,
Day 1
Today was an awesome day! We set off for Year 5 camp and after a 2 hour journey finally arrived. They were very welcoming and gave us a guided tour. I was so hungry I ate a packed lunch made by my mum, it was delicious! Guess what we did next? A 4.5 mile hike! It was an amazing view from the top and we walked past a cave and told spooky stories. We arrived back at the learning centre to find out our dorms, I was so excited. After time spent in our dorms, we went down for tea, lovely pasta and for pudding chocolate sponge with custard. We went back to our dorms, enjoyed a little chat, then went to bed...Wink! We had a midnight feast. Shhhh…….Don't tell the teachers!
Day 2
We woke up at 7.30am, well 6.00am if I'm honest. Breakfast was cereal and an English breakfast followed by our first activity, team building games. After lunch, our second activity was den building. Our team made a main den leading into a small den with a camp fire. They tested strength and how waterproof it was, to do this they shot us in our den with water guns! For tea, we ate chips, rice and chicken in a lovely sauce and apple and rhubarb crumble with icecream. After a football game trip in the park, which we won 4-3, we read a story and then to bed.
Day 3
Today was the last day of our great adventure. I woke up and got ready for a wonderful day. Our breakfast was cereal and pastries. Followed by our first activity, art with nature. We organised natural things into a picture, made homes for animals, then organised ourselves into alphabetical order and tried to escape from handcuffs! The second activity was lots of fun games outside. After lunch we hopped on the coach and headed home!